Spend the night in the ancient temple of  Zenpoji where the divine dragon serpents of Naga and Nagi are believed to reside and watch over the oceans.
This temple was originally constructed in 938 by fishermen from across Japan and continues to be visited by thousands of fishermen each year to wish for safe and bountiful harvests of the seas.
This expansive and beautiful temple offers guests the chance to spend the night in their temple where they will take part in zen meditation, enjoy traditional shojin ryori cuisine, and also take part in a ceremony early in the morning with all of the monks of the temple.
This experience will start with a 4pm check in at Zenpoji Temple where your guide will meet you and introduce you to the monks who will be leading your experience.   After checking into your rooms you will be given a tour of the many halls of Zenpoji learning about this temple's deep history as well as Soto Zen, the largest of the three sects of Buddhism in Japan that they practice.
Following this tour you will take part in a short session of zen meditation in the same room that the monks train in.  This spiritual training is not an intense experience, rather it encourages practitioners to open their minds and learn to accept the world around them and putting our heart and mind in a state unburdened by the weight of our daily lives.
Following this session you will take a short break before enjoying shojin ryori, the traditional vegetarian cuisine of the monks of Zenpoji for dinner.   Prior to and during this meal we will learn about the strict rules of the ingredients, preparation, and dining etiquette of this spiritual cuisine and how it is a central part of the training and discipline of these monks.
The following morning you will take part in a ceremony with all the monks of Zenpoji Temple.
We will be briefing you before hand on what you will experience and do during this ritual.
Following this you will enjoy breakfast before having another opportunity to take part in morning meditation together with the monks.
| | |
| --- | --- |
| LOCATION | Zenpoji Temple  |
| Event Date(s) | Year Round |
| Activity Time | Check in 4:00pm |
| Activity Length | 2 Days |
| Price | 30,000 yen/person (minimum 2 people) |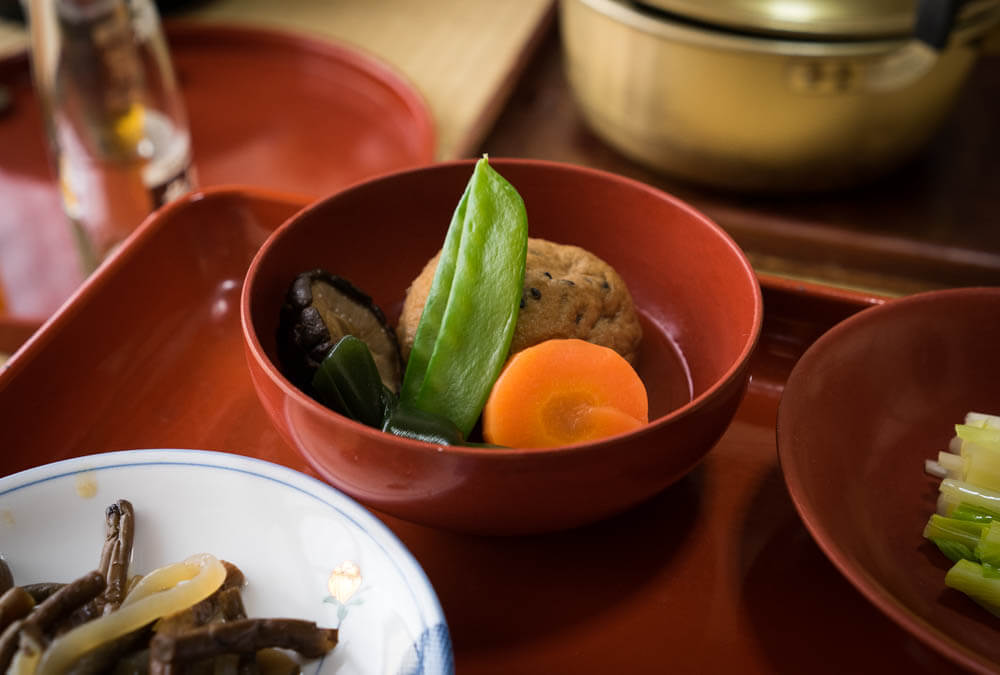 Please note that you will need a rental car or taxi from Tsuruoka to reach this location.
A local bus line does operate in this area.