Venture into the pristine forests of Mt. Kinbo with Masato Konno, a Yamabushi mountain monk who will introduce you to the beliefs and practices of the Yamabushi as you partake in rituals and blessings deep in the nature of this sacred mountain.  Masato will take us along his daily Yamabushi training to the Mt. Kinbo Shrine from the base of the mountain which is part of his daily purification and rebirth of his body mind and soul.
This experience will also be led by a local guide who is experienced in translating for the Yamabushi of Yamagata.
During this experience participants will dress into pure white shirosozoku robes, the traditional clothing worn by the Yamabushi during their training on Dewa Sanzan Mountains.  These robes were traditionally the robes that the dead wore and is to signify the symbolic journey of rebirth that these monks go through when training in the mountains.
Participants will next make their way into the forest and hike along a path that has been formed from centuries of training conducted by the Yamabushi on this mountain.  After reaching and taking part in a ritual at the Mt. Kinbo Shrine, we will take a break in the forest and eat a light meal before descending back down the mountain.
Please note that participants should be in good health as we will be hiking through a forest along a dirt trail.
This experience is one of many Yamabushi training programs here in Yamagata and is meant to be an introductory course. Note that taking part in this Yamabushi training does not make one a Yamabushi, but rather serves to offer an educational experience that betters one's understandings of the lives and traditions of the Yamabushi.
More intensive courses will be made available in the near future.
| | |
| --- | --- |
| LOCATION | The base of Mt. Kinbo |
| Event Date(s) | Year Round |
| Activity Time | 9:00am to 12:00pm |
| Activity Length | About 3 hours |
| Price | 12,000yen/person |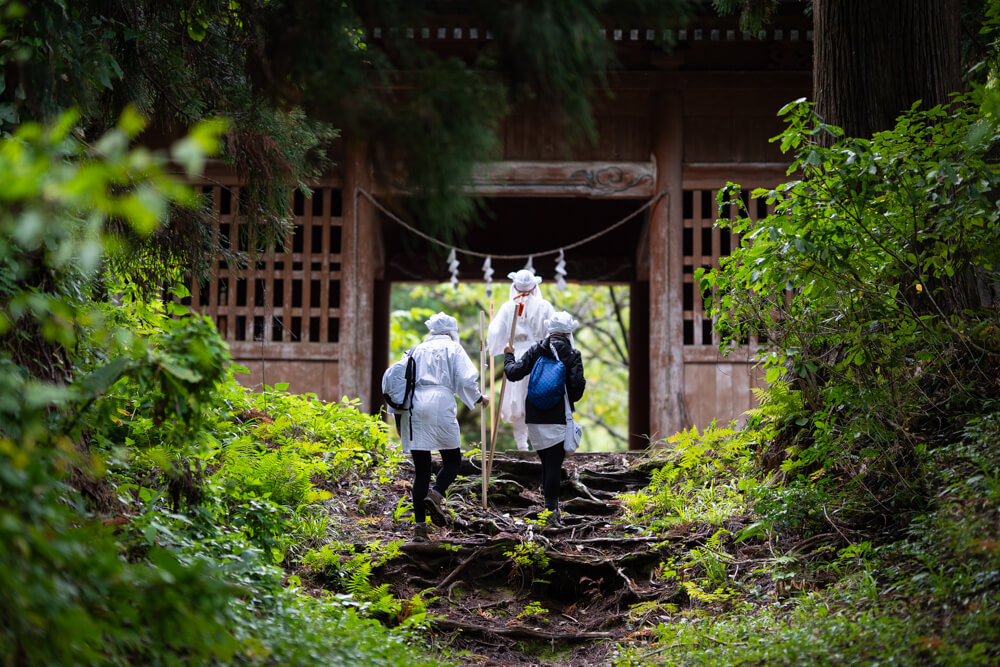 Please meet at 9:00am at the Awashima Shrine at the base of Mt. Kinbo.
Note that a rental car or taxi from Tsuruoka Station is necessary to get here.